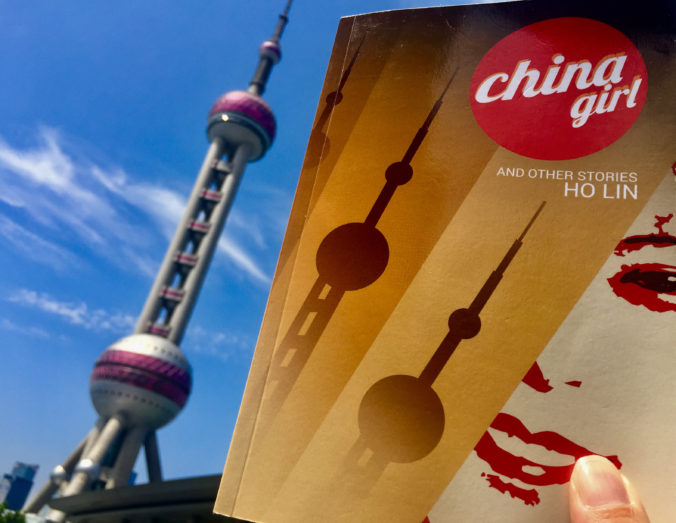 Reviews
China Girl and Other Stories
Foreword Reviews (5 of 5)
Complete review: https://www.forewordreviews.com/reviews/china-girl
Excerpt:
In China Girl and Other Stories, Ho Lin examines the unease of living with memories: some brutal, others fleeting, each written with impressive foreboding. Nine dense, imaginative journeys take the form of film synopses, sketches, and sharp political commentaries. Together they demonstrate the tension between lost worlds and a volatile present…
When Ho Lin declares, in one story, that "absence and presence are constantly at war," it's the perfect summation for his characters' lives, plagued as they are by dark histories.
Reader Views
Complete review: http://readerviews.com/reviewlinchinagirl
Excerpt:
Ho Lin is a master of painting miniature worlds… While each piece is unique, Lin's impressive storytelling weaves them together to build a unique tapestry… I find it difficult to engage with short stories sometimes. Some are too short to leave me feeling satisfied, while others drone on without saying much of anything. "China Girl: And Other Stories" is the first to hold my complete attention in a long time… a perfect example of what an anthology should be.
Asian Review of Books
Complete review: http://asianreviewofbooks.com/content/china-girl-and-other-stories-by-ho-lin/
Excerpt:
Ho Lin is a San Francisco-based filmmaker and musician as well as writer. Filmmaking directly informs a couple of the stories which riff on scripts and film pitches and indirectly in stories which are constructed out of short vignettes—in a story like "Charge"… one can almost see the camera cuts. All the stories, indeed, show attention to both dialogue and imagery, as if they were meant to be seen and heard as well as read…
Ho Lin's China… of cadres, minders, girls chasing foreign passports, musicians aping foreign music, free-thinking journalists, is one refracted through a non-Chinese glass. The stories themselves, the human dilemmas of social alienation and facing up to one's past, are more universal than particularly Chinese; their Chinese setting may be integral to the telling, but not perhaps to the point.
China Girl is published by Regent Press, a small publisher in Berkeley, California, welcome evidence of the continued vibrancy of independent publishing.
E.P. Clark: Author and Reviewer
Complete review: https://epclarkauthor.net/2017/10/06/china-girl-and-other-stories-by-ho-lin/
Excerpt:
The stories of "China Girl" are delicately yet vigorously crafted – each one shows meticulous construction, with subtle details and close attention given to the characters' internal states, but with the inclusion of plenty of earthy action as well: people eat, meet, break up, fight, die, and make love (or fail to make love) in vignettes that suggest something beyond the beginning, middle, and end of the story in question.
And in fact, while I would hesitate to label this collection as "metaphysical," "visionary," or "otherworldly" exactly, there certainly are ghosts, of both the literal and figurative kind, who add a layer of complexity to the situations the characters must negotiate. Like a delicious meal made up of multiple dishes, this story collection is rich in multiple flavors without being overwhelming, and well worth reading for anyone looking for some contemporary literary/multicultural short fiction.
Cannonball Read
Complete Review: https://cannonballread.com/2017/11/myth-history-culture-collide/
Excerpt:
Each tale aimed to shed light on random moments from varying points of view. He pulls in the reader with unexpected juxtapositions of settings and tone. The collection exudes emotion as if the stories were collective memories meshed together… This idea of contradiction, myth vs. historical facts, memory vs. reality can be found in all the stories. I would recommend this anthology to fans of short stories that are light on narrative and heavy on emotional, surreal observations in the vein of Joan Didion.
Midwest Book Review
http://www.midwestbookreview.com/

In its nine deftly written and inherently fascinating short stories, "China Girl", although a series of fictional entertainments, insightfully documents the collisions between East and West, the power of myth and the burden of history, and loves lost and almost found.  Simply stated, "China Girl" is very highly recommended for personal reading lists, as well as both community and academic library Contemporary Literary Fiction collections.