"China Girl and Other Stories"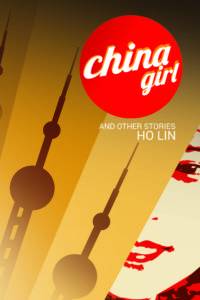 Get a copy of "China Girl" on Amazon

Latest Update: "China Girl" a Finalist in the "Fiction: Short Story" category of the 2017 Best Book Awards
She likes this American, this man with no job and nothing past a first name. Hair shaggy and strong, knife-edge wrinkles about his eyes, he booms: Hang on!
China Girl is a collection of my short stories, spanning a decade's worth of work. I've been asked if the stories have a thread in common, and my usual answer is: "Asia" – whether it's the Asia of today, a mythical Asia of dreams, or an Asia of memory. To be more precise, the stories in this collection are about modern women, drunken dissidents, disgruntled city dwellers just trying to get by, unrequited couples from opposite ends of the world,  a princess of a kingdom that no longer exists, and actors placed at the service of comedies and tragedies, depending on the filmmaker's whims.
My guest blog post on Long and Short Reviews: "China Girl in China"
Reading on video: "Ghost Wife" (excerpt from China Girl)
For sneak previews of this collection and further updates on the book and all my other writing projects, sign up for my mailing list.